Trinity College invites your students to finish off the Young Leaders Programs with an Environment & Sustainability - Coastal Discovery Service Learning Program!
Capping off a brilliant Young Leaders Program, the Environment & Sustainability - Coastal Discovery Service Learning Program is open to local and international students who would like to experience the true beauty of Victoria, learn about the environment and sustainability and make a positive difference to animals and nature. This one-week program will allow students to travel from the Mornington Peninsula, to Phillip Island where they will undertake a Volunteer (Service Learning) Project with the Phillip Island Nature Parks. After the project, students will head along the majestic Great Ocean Road where they will experience the beauty of the Australian landscape first-hand.


With sustainability as the fastest growing aspect of business and education in the 21st century, no matter what you do - from commerce, to engineering, lawyer or teacher, having an understanding of the natural world will position you as a global leader in your field.
The Coastal Discovery Service Learning Programis a rare opportunity to experience the magnificent natural beauty of Australia, learn about the environment and experience a taste of an inspiring career in the industry.

SERVICE LEARNING PROGRAM
Want to see some of the most beautiful places in Victoria, experience a taste of your future career and make a positive difference for animals and the planet?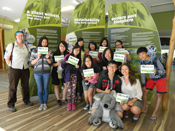 Students of our past programs have counted the project as the highlight of the week. On days 2, 3 and 4, students come together as a team to have a hands on experience of internationally renowned conservation programs. Students will learn how to protect penguin habitats, revegetate vital landscapes and experience life on a heritage farm. Not only this, students will come back with insights into career avenues in the environment field, hours of fun memories and a sense of deep satisfaction that they have made a positive impact on the environment and animals who share our world.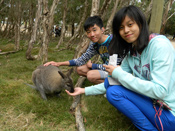 Students will learn the principles of ecology and environmental science, as well as pollution control and the impact of climate change.
The concept of sustainable living is at the core of this program, which will allow students to experience first how we can minimise our impact through changing behavioural patterns to influence the natural environment through the Environment & Sustainability Project that includes working with native animal and conservation initiatives.
ARRIVE:
Sunday 12 July (morning)
DEPART: Sunday 19 July (book flights to leave in the afternoon/evening)

COST:
AUD$1,700 per student.
Group bookings available.



BONUS
: For every 5 students that you send, you get one free teacher or agent position to attend.


INCLUDES:
Return airport transfers, all meals, accommodation, mentoring, academic and extracurricular activities and entry fees.

EXCLUDES: Flights, visas, travel insurance and spending money.
For more information, feel free to visit your nearest JM office.
Please complete the application form and Personal Statement
by Monday 1 June 2015.